Billing Reminders for the New Year
Eligibility & Benefits
With a new year comes new insurance policies for patients across the nation. It is important to remember that many plans change at the start of a new year so verifying benefits and eligibility is key to proper billing. While some patients keep the same insurance plans, many do not. Utilizing online eligibility and benefits tools is both fast and efficient.
MCO & HMO Coverage
Patients often opt into Medicare Advantage plans. Medicare Advantage plans replace the Medicare Part B coverage. Some of the most commonly used advantage plans are UnitedHealthcare, BlueCross BlueShield, Aetna and Humana. There are numerous others, so always make sure to double check the patient's member ID card. The insurance card will say "Medicare" somewhere on it.
Examples: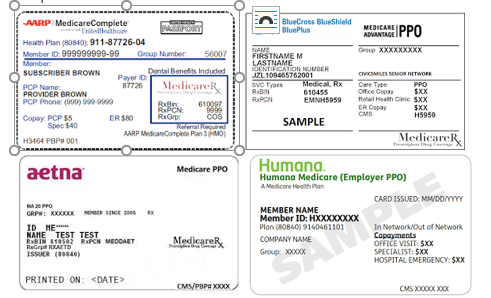 Deductibles & Copays
 The majority of insurance plans' benefit year runs from January 1 – December 31, so that means deductible amounts have reset for the year. Always let your patients know that they may receive a statement for their deductible. It's also important to verify how much should be collected for a copayment since most plans require different deductible amounts for different provider types.
Verifying patient eligibility and benefits prior to their appointment will help decrease the number of denials and/or rejections for incorrect or expired insurances. It will also ensure faster payment and lower accounts receivable numbers. Verifying copayments will decrease the number of small balance statements sent out to your patients and discussing deductible amounts can help keep your patients' minds at ease when a statement is received. Most insurance plan information can be obtained and/or verified using online tools or by calling the provider services number on the back of the patient's insurance card.
About PGM
Physicians Group Management (PGM) is one of the fastest-growing medical billing companies in the United States.  For over 35 years, PGM has been providing medical billing and practice management services and software to physicians, healthcare facilities, and laboratories.  PGM's current client base encompasses the full spectrum of medical specialties, including Internal Medicine, Dermatology, Plastic & Reconstructive Surgery, Pathology, EMS & Ambulatory Services, Cardiology, Nephrology, Urology, Pain Management, OB/GYN, Gastroenterology, Independent Laboratory, and many more.  PGM's medical billing and practice management solutions include:                           –
– A full suite of practice management and medical billing solutions each tailored to the specific needs of your practice
– CCHIT-certified electronic medical record software and services
– Streamlined, customized credentialing services for providers of all sizes
– Practice management software that provides advanced financial and practice analysis tools, specifically designed to give enhanced visibility of operations at the click of a button
– Laboratory billing software that offers best-in-class systems to streamline, and manage and track, financial and administrative processes