Laboratory Medical Billing Services
Laboratory Billing Services That Help You Tackle Revenue Cycle Management Challenges.
Maximize the reimbursement process and streamline laboratory operations
PGM understands that clinical and reference laboratories face a daunting number of challenges. The complexity of clinical laboratory billing, ever-increasing regulatory demands, inadequate legacy applications and difficulties accessing information can impede growth and hinder the success of your business.
PGM has been working with independent clinical, hospital outreach and reference labs for the past 30 years and has developed one of the most effective lab billing, coding and financial management services on the market today. With PGM, clinical and reference labs can effectively manage high-volume, small-dollar claims, improve laboratory collection rates and gain revenue cycle management insight through in-depth financial management reports.
Every step of the way, our team works closely with you to ensure we develop a customized billing strategy that is designed to meet the strategic business objectives of your laboratory. Our full-service laboratory billing handles all aspects of laboratory billing, including both the technical and professional components, both in-network and out of network billing. In addition PGM services include:
Collection of payer payments made to directly to patients
LIS Integration and data integration
Sales Representative Tracking at the collection level
Accession or patient encounter monitoring to ensure every case is submitted for reimbursement
Monitor payments to ensure adherence to contracted rates
Appeals for molecular laboratory claims denied as investigational
Patient balance billing
Handle patient inquiries regarding billing questions
Guidance on pricing
Ensure accurate financial reporting, coding, billing and collections
Increase revenue while cost-effectively processing high-volume, low-dollar claims
Regulatory guidance
To learn more about our laboratory medical billing services, request a free demo or contact us for more information.
Laboratory Revenue Cycle Management
Laboratory Coding
According to the AMA, the average Laboratory submits more than 50% of its claims with incorrect codes. For laboratories the issue is exacerbated due to advances in molecular laboratory tests outpacing the establishment of CPT/PLA codes. Use of "unspecified "codes must be accompanied by accurate descriptions, "Z" codes and/or documentation. Inexact and inconsistent coding increases the risks of undercharging, overcharging and post-payment audit.
At PGM, all of our clients undergo a practice evaluation where our certified coders, in conjunction with our reimbursement specialists, analyze practice procedures and codes to make recommendations that ensure accurate and optimum reimbursement.
Patient charge and demographics data entry/upload
Patient demographics and accession charges are collected daily. Data can be scanned, faxed or couriered to any one of our locations. Once the data has been received, a dedicated PGM account representative will enter the information into our practice management system.
For PGM clients using a Laboratory Information System (LIS), patient demographics and accession charge data can be electronically transferred via HL7 integration, in real-time, to our practice management system.
Claims Review
PGM's reimbursement specialists compile and review all client patient and charge data. Billing uploads and batches are balanced, and our medical claims process software is used to 'scrub' claims for errors and omissions. PGM's software performs thousands of checks, including CPT/ICD-10 validations, modifier checks, demographic comparisons and payer-specific edits.
The claims review process ensures that laboratory billing data is being accurately captured and that claims are clean prior to being submitted for payment. Clean claims greatly increase the rate of payment, helping to maximize the amount collected and reduce accounts receivable.
Claim Submission
Once the claims are reviewed and audited, they are transmitted to the various payers for reimbursement. PGM has the ability to electronically transmit claims to thousands of payers nationwide. For those payers that do not have the ability to receive electronic claims, PGM will generate and mail paper claims.
After submission, claims receive an additional level of "scrubbing' by our clearinghouse. Edits and errors are relayed back to PGM for correction prior to submission to the payer.
Payment Posting
Payments are received either hard copy or via electronic fundstransfer (EFTs). The corresponding explanation of benefits (EOBs) are received hard copy or as an electronic remittance advices (ERA) which PGM retrieves directly. PGM clients are given the option to continue to receive payment at the laboratory or to have PGM manage all payments at one of our facilities.
Once payment is received, it is reviewed and line-item posted into our practice management system by one of our reimbursement specialists.
Claim Tracking
Once payments have been posted into our practice management system, they are run through our payer-specific rules software, which aggressively detects unpaid or misadjudicated claims.
Once an unpaid or misadjudicated claim is flagged, it is brought to the attention of one of our reimbursement specialists for further investigation and active follow-up.
Denial management and follow-up
Only 70% of the average medical practices insurance claims are ever paid by insurance providers. While a practice may submit a perfectly clean claim to a payer, there is no guarantee that it will get paid or, for that matter, get paid accurately.
It's no secret that payers continue to impose increasingly complex rules, systems and loopholes with the single goal of limiting payment. This frequently means that practices remain unpaid on the valuable service provided to patients.
PGM's incentive-based fee structure ensures that we work hard to make sure nothing gets left behind. Once an outstanding claim has been identified as past due, PGM's system alerts our account representative who then reviews the history and follows up on the claim accordingly.
Patient Balances
We work directly with laboratories to customize a patient billing profile, and perform all patient billing functions on behalf of the laboratory.
The typical patient billing profile includes a series of easy to understand statements. Should a patient fail to make payment, additional letters and/or a call sequence is initiated. For questions regarding a bill, patients are provided a toll-free number to call where one of our patient billing specialists is ready to answer any questions.
PGM does not perform collection services, and therefore patient billing services are structured to encourage patients to resolve outstanding balances. For those patients who refuse or are unable to complete their obligation, PGM will work with the laboratory to structure a patient payment plan or transition the balance to a third-party collection agency for resolution.
Reporting
With PGM's laboratory billing software, you get clearer, real-time visibility into claim status and laboratory operations. Labs are provided access to our cloud based revenue cycle management software, where they can view and manipulate data on nearly any level. Data can be filtered and sorted on nearly any field or data point. From accession reporting to sales force performance, PGM's reporting engine is focused on increasing your bottom line and giving revenue control back to your business.
Improved Performance
Focus on growing your laboratory, not managing your billing. Our competitive laboratory billing service is focused on maximizing your collections, getting you paid more and paid faster. Our advanced claim submission reviewer detects lab billing errors prior to entry, dramatically reducing denial rates. We aggressively follow-up and appeal denials and misadjudicated claims, increasing your overall revenue. Specifically, you will improve your collection rates and reimbursement cycle, reduce your accounts receivable, decrease the rate of lost and denied claims and gain improved insight into your laboratory's financials and performance. With PGM, you will have 100% visibility over your claims, and you will know where your cash is.
By letting PGM manage the task of collecting payments and monitoring reimbursement, you and your staff will have more time to focus on your success and growth.
Personalized Assistance
Our staff is 100% committed to serving you. All of our clients are assigned their own designated account executive, giving you the security and comfort of working with a representative who is uniquely familiar with your business. From guiding you through the implementation process to frequent performance reviews and updates, our staff is there with you every step of the way. In addition PGM's Lab Intelligence Team monitors the frequent changes in the industry, providing you with invaluable industry intelligence, helping to guide you on policy issues and regulatory compliance.
Transparency
Understanding your laboratory's financial performance can be challenging. With data buried in spreadsheets and antiquated systems, gathering the information necessary to optimize operations and plan for the future is often difficult and time consuming.
To help meet this challenge, PGM provides you with advanced financial and practice analysis tools, specifically designed to give enhanced visibility of your operations and capture key data and metrics for internal benchmarking and regulatory reporting. Measure everything from sales representative performance to accession summary data. PGM's cloud based laboratory billing system is a robust tool trusted by laboratories across the country.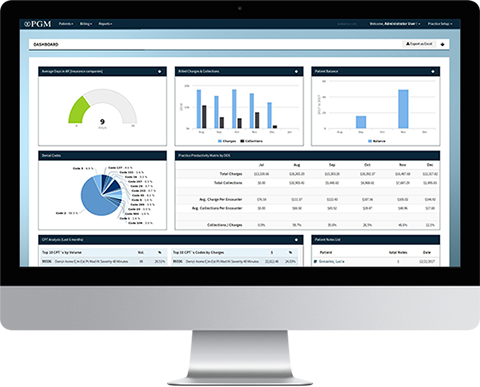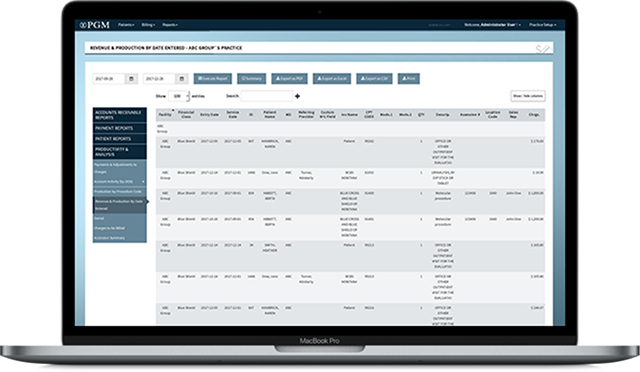 Reporting
PGM laboratory billing reporting is highly intuitive and grants instant access to data so you can immediately track performance and make qualified decisions. Qualitative assessment becomes easier because you can review everything from which payers reimburse, and at what rates to which business lines are most successful. Additionally, you will have full insight into specimen origin data and track referral sources at both the accession summary and detail level. Our robust reporting engine provides data on nearly any field or metrics, and is available in real time from any internet enabled device.
See our solutions in action
PGM's Free Medical Billing Software Demo
Please complete the following form and a PGM representative will contact you.
Contact us directly at 877-224-6206 to schedule a live demo.