Physician Medical Billing Services
Medical Billing Customised to Meet the Needs of Physician Practices.
You focus on patients. Let us worry about your medical billing.
You work hard to balance the demands of medicine and business. It's no easy task ensuring your practice delivers quality patient care, higher productivity and increased cash flow, all while trying to comply with ever-changing regulations and payer guidelines.
PGM can help. Our medical billing service is a hassle-free business solution for physician practices of any size. PGM's full range of practice management solutions will liberate your staff of tedious physician billing and remittance tasks, helping you to focus on patient care and practice growth. From extending our proprietary online software to your practice to our full-service practice management and medical billing service, PGM will work with you and your team to tailor a solution that best suits the needs of your medical practice.
Our complete practice management and physician billing solution eliminates all charge entry, claim submission, payment posting and follow-up, and much more:
Claims submission and tracking helping to ensure timely payment
Remittance advice posting, including EOB scanning and payment verification
New payer rule development helping to monitor changes and keep payments on track
Advanced claim scrubbing resulting in clean claims the first time
Extensive follow-up and appeals process where nothing gets left behind
No-hassle, web-based software that is easy to use, learn and implement
Fully customizable reports available 24/7 in real-time, providing in-depth visibility into practice performance and trends
A global dictionary of insurance package information, ensuring proper payer enrollment
Periodic account reviews where we examine payer successes and opportunities for improvement
Learn more about our medical billing services for your specialty.
PGM Revenue Cycle Management
Medical Coding
According to the AMA, the average medical practice submits more than 50% of its claims with incorrect codes. Inexact and inconsistent coding increases the risks of undercharging, overcharging and post-payment audit.
At PGM, all of our clients undergo a practice evaluation where our certified coders, in conjunction with our reimbursement specialists, analyze practice procedures and codes to make recommendations that ensure accurate and optimum reimbursement.
Patient Charge and Demographics Data Entry/Upload
Patient demographics and charges are collected from your office daily. Data can be scanned, faxed or couriered to any one of our locations. Once the data has been received, a dedicated PGM account representative will enter the information into our practice management system.
For PGM clients using an electronic medical record system (EMR/EHR), patient demographics and charge data can be electronically transferred in real-time to our practice management system though our EMR/EHR medical billing interface.
Claims Review
PGM's reimbursement specialists compile and review all client patient and charge data. Billing uploads and batches are balanced, and our medical claims process software is used to 'scrub' claims for errors and omissions. PGM's software performs thousands of checks, including CPT/ICD-9 validations, modifier checks, demographic comparisons and payer-specific edits.
The claims review process ensures that practice billing data is being accurately captured and that claims are clean prior to being submitted for payment. Clean claims greatly increase the rate of payment, helping to maximize the amount collected and reduce accounts receivable.
Claim Submission
Once the claims are reviewed and audited, they are transmitted to the various payers for reimbursement. PGM has the ability to electronically transmit claims to thousands of payers nationwide. For those payers that do not have the ability to receive electronic claims, PGM will generate and mail paper claims.
After submission, claims receive an additional level of "scrubbing' by our clearinghouse. Edits and errors are relayed back to PGM for correction.
Payment Posting
Payments are received either hard copy or via electronic remittance advices (ERA). PGM clients are given the option to continue to receive payment at the practice or to have PGM manage all payments at one of our facilities.
Once payment is received, it is reviewed and line-item posted into our practice management system by one of our reimbursement specialists.
Claim Tracking
Once payments have been posted into our practice management system, they are run through our payer-specific rules software, which aggressively detects unpaid or misadjudicated claims.
Once an unpaid or misadjudicated claim is flagged, it is brought to the attention of one of our reimbursement specialists for further investigation and active follow-up.
Denial Management and Follow-up
Only 70% of the average medical practices insurance claims are ever paid by insurance providers. While a practice may submit a perfectly clean claim to a payer, there is no guarantee that it will get paid or, for that matter, get paid accurately.
It's no secret that payers continue to impose increasingly complex rules, systems and loopholes with the single goal of limiting payment. This frequently means that practices remain unpaid on the valuable service provided to patients.
PGM's incentive-based fee structure ensures that we work hard to make sure nothing gets left behind. Once an outstanding claim has been identified as past due, PGM's system alerts our account representative who then reviews the history and follows up on the claim accordingly.
Patient Balances Billing
At PGM, we understand that patients are the lifeblood of the practice. We work directly with the practice to custom tailor a patient billing profile to perform all patient billing functions on behalf of the practice.
The typical patient billing profile includes a series of easy to understand statements. Should a patient fail to make payment, additional letters and/or a call sequence is initiated. For questions regarding a bill, patients are provided a toll-free number to call where one of our patient billing specialists is ready to answer any questions.
PGM does not perform collection services, and therefore patient billing services are structured to encourage patients to resolve outstanding balances. For those patients who refuse or are unable to complete their obligation, PGM will work with the practice to structure a patient payment plan or transition the balance to a third-party collection agency for resolution.
Reporting
PGM provides advanced financial and practice analysis tools designed to give enhanced visibility into practice operations at the click of a button. Practices are provided access to PGM-online, our Internet-based reporting system, where they can access hundreds of practice analysis and performance reports. Should a practice require additional information, custom reports are also available upon request.
Additionally, PGM's reimbursement specialists provide frequent practice performance reviews offering additional insight into practice financial operations.
Improved Performance
Practice medicine, not management. Our comprehensive medical billing service is focused on maximizing your collections, getting you paid more and paid faster. Our advanced claim submission reviewer detects medical billing errors prior to entry, dramatically reducing denial rates. We aggressively follow-up and appeal denials and misadjudicated claims, increasing your overall revenue, and offer an enhanced e-delivery solution for patient billing through our partnership with Data Media Associates (DMA) and WorldPay Merchant Services. Specifically, you will improve your collection rates and reimbursement cycle, reduce your accounts receivable, decrease the rate of lost and denied claims and gain improved insight into your practice's financials and performance. With PGM, you will have 100% visibility over your claims, and you will know where your cash is.
By letting PGM manage the task of collecting payments and monitoring reimbursement, you and your staff will have more time to focus on patient needs and practicing medicine.
Personalized Assistance
Our staff is 100% committed to serving you. All of our clients are assigned their own designated account executive, giving you the security and comfort of working with a representative who is uniquely familiar with your practice. From guiding you through the implementation process to frequent performance reviews and updates, our staff is there with you every step of the way.
Transparency
Understanding your practice's financial performance can be challenging. With data buried in patient charts, spreadsheets and antiquated systems, gathering the information necessary to optimize operations and plan for the future is often difficult and time consuming.
To help meet this challenge, PGM provides you with advanced financial and practice analysis tools, specifically designed to give enhanced visibility of your operations at the click of a button.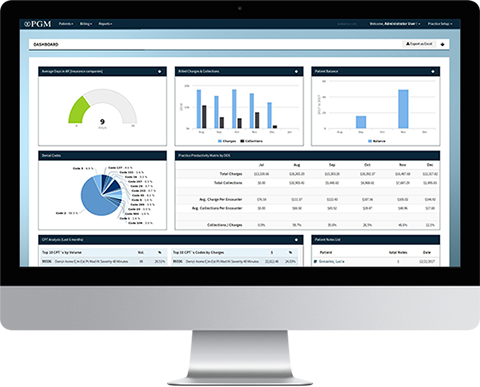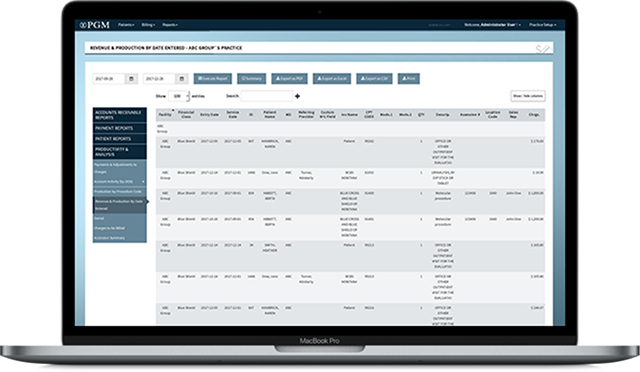 Reporting
PGM medical billing reporting is user friendly and grants instant access to data so you can immediately track performance and make qualified decisions. Qualitative assessment becomes easier because you can review everything from which payers reimburse, and at what rates to which business lines are most successful.
See our solutions in action
PGM's Free Medical Billing Software Demo
Please complete the following form and a PGM representative will contact you.
Contact us directly at 877-224-6206 to schedule a live demo.