Billing Reminders for the New Year – Part 2
Medicare Secondary Payer:
Sometimes, a member will have Medicare as a secondary payer. In this case, it is mandatory that the Medicare Secondary Payer (MSP) code be entered on the claim form. This can be found on Availity or the Medicare web portal. Common MSP codes include, but are not limited to:
Disabled under 65 years old

Working aged or spouse with commercial insurance

No fault or auto accident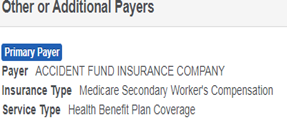 Medicare secondary payer information and codes can be found on cms.gov or by clicking here.
Medicare Supplement Plans
Supplemental plans are billed after Medicare has processed and paid a claim. There are several different Medicare Supplement plans and it will not always indicate it on the insurance card. Always check Medicare eligibility to help determine if the patient has a supplemental plan or an advantage plan.
Some Medicare supplemental plans include:
AARP
Aetna
Humana
Colonial Penn
Banker's Fidelity
Cigna
There are countless other supplemental insurance plans and patients may or may not be aware of the kind of coverage they have. Always call the phone number on the back of the card(s) to verify benefits.
About PGM
Physicians Group Management (PGM) is one of the fastest-growing medical billing companies in the United States.  For over 35 years, PGM has been providing medical billing and practice management services and software to physicians, healthcare facilities, and laboratories.  PGM's current client base encompasses the full spectrum of medical specialties, including Internal Medicine, Dermatology, Plastic & Reconstructive Surgery, Pathology, EMS & Ambulatory Services, Cardiology, Nephrology, Urology, Pain Management, OB/GYN, Gastroenterology, Independent Laboratory, General Surgery, Vascular Surgery, Plastic Surgery, and many more.  PGM's medical billing and practice management solutions include:                –