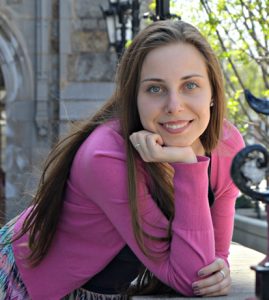 PGM Billing, a leading integrated physician and laboratory billing, practice management and revenue cycle management service provider, congratulates Karolina Mieczkowska, the recipient of the second PGM Graduate Scholarship.
The PGM scholarship was open to graduate students entering medical school or those who were currently enrolled in a medical school program. Mieczkowska, the 2017 recipient, is originally from Lindenhurst, N.Y. She is now pursuing her medical degree at Albert Einstein College of Medicine in Bronx, N.Y.
Healthcare Background
Mieczkowska has an impressive healthcare background. For her undergraduate studies, she attended Boston College's Morrissey College of Arts and Sciences, graduating summa cum laude in May 2017. She earned her bachelor of science in biochemistry, with a minor in medical humanities. While at Boston College, Mieczkowska worked in a research lab focused on performing studies related to lipid storage diseases and was a member of the Boston College EMS. Other experiences include serving an internship at North Shore University Hospital and volunteering at Good Samaritan Hospital.
Q&A with Karolina Mieczkowska
Mieczkowska spoke with PGM about the scholarship, her interest in healthcare and future aspirations.
Q: How did you develop an interest in healthcare?
Karolina Mieczkowska: At a young age, I became very comfortable being in the medical setting. I was born with a benign tumor known as a hemangioma on my left cheek. Since not much was known about my diagnosis at the time, I had many visits with various specialists and hospitals to determine the best course of action for me. Before I was born, my parents immigrated to the United States from Poland. While they knew how to communicate in basic English, I took on a greater role in my own care early on to understand the advice and opinions of my doctors. Additionally, during elementary and middle school, I would often be at my pediatrician's office monthly to receive shots for my seasonal allergies.
I believe that my interest, respect and love for the field of medicine developed gradually through all those times I interacted with healthcare providers who strived to provide the best care for me.
Q: What do you like about healthcare?
KM: An aspect of healthcare that I am very intrigued by is the critical thinking necessary to take care of others. Providers spend countless hours learning anatomy, physiology, disease mechanisms and all the details in between to directly apply them in a real-life setting, every day of their lives. Each patient is unique and carries a different story. As a result, when physicians decide on the best care possible, they must navigate through the patient narrative as if it were a puzzle — piecing aspects together and using what they have learned to figure out what is going on and what to do next.
I really appreciate the opportunity that medicine provides to use one's knowledge and skills in hopes of impacting someone's life for the better. It is a field that is constantly changing and demands life-long learning so that patient outcomes continue to improve, which are additional aspects of healthcare that I really like.
Q: What are your career ambitions in healthcare?
KM: My ambitions in healthcare are currently focused on the field of pediatrics. However, as my time throughout medical school progresses, I hope to also keep an open mind to other fields that may interest me. Whichever field I ultimately find myself in, I strive to not only improve the health of my patients but also serve my community, take part in global mission trips and participate in research. I believe taking part in health outreach would allow me to get to know more about the areas in which I serve and help those who experience obstacles in accessing healthcare. Furthermore, I enjoy taking part in research, and hope to do so by searching for answers to some of the many questions within medicine.
Q: What have you accomplished thus far in the field?
KM: While my time thus far in the medical field has been short as I just started medical school, there are undertakings I would consider triumphs that have brought me to this point. I would consider my work as an EMT during undergrad an accomplishment as it taught me the most basic skills of care that could make a difference in a person's life. This became very real to me the first time that I performed CPR.
Additionally, I presented at a medical humanities conference at my school where I spoke about my own medical journey dealing with my hemangioma and the stares I often experienced. I strived to spread the message that an individual is much more than the illness or disorder they present with and they should not be defined by it.
Finally, taking part in research allowed me to learn various skills and appreciate the science that makes medicine possible. I believe such experiences motivate me to reach higher and accomplish more as I embark on my journey to become a physician.
Q: How will receiving the scholarship help with achieving your academic and/or professional goals?
KM: Financing one's medical education is a major consideration when deciding to become a physician. Although worthwhile, medical school is an expensive investment. Receiving the PGM scholarship will ease this financial burden and allow me to focus on my studies and extracurricular involvements. As a result, I will be able to allocate more time towards expanding my interests and experiences in medicine rather than trying to work to save up the equivalent to this sum of monetary support. By having the opportunity to be exposed to more facets of medicine academically and professionally, I believe I will mature into a more well-rounded medical student and future physician.