PGM Billing, a leading integrated medical billing, practice management and revenue cycle management service provider, is proud to announce the recipient of the first PGM Graduate Scholarship.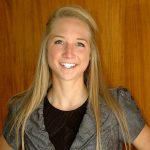 The PGM scholarship was open to graduate students entering medical school or those who were currently enrolled in a medical school program. The 2016 recipient is Megan Thacker of Omaha, Neb. Megan is a recent graduate from Augustana University in Sioux Falls, S.D. She will begin medical school at the University of Nebraska Medical Center (UNMC) this fall, where she is leaning toward specializing in physiatry or orthopedics.
Megan Thacker's Healthcare Background
Megan has an impressive healthcare background. She has participated in three summers of molecular cancer research, which furnished material for six poster presentations, the most notable being at the American Association for Cancer Research (AACR) 2015 Annual Meeting in Philadelphia.
She further expanded her knowledge and fueled a passion for medical science by serving as president of Pre-Medical Club and Tri-Beta National Biological Honor Society. Throughout college, Megan volunteered at the local medical emergency department and worked as a Writing Center Tutor as a means to enhance her rhetoric and syntax as well as assist others.
As a junior, she was awarded the Dr. Jeffrey Behrens Sports Medicine Full Tuition Scholarship by Sanford Health and the Academic Achievement Award by the Athletics Directors Association for Division II athletics. For her senior year, she was named to the NCAA Postgraduate Scholarship Award list and endowed with the Myles Brand All-Academic with Distinction Award by the Northern Sun Intercollegiate Conference. 
Q&A with Megan Thacker
Megan spoke with PGM about the scholarship, her interest in healthcare and future aspirations.
Q: How will receiving the scholarship help with achieving your academic and/or professional goals?
Megan Thacker (MT): I sincerely appreciate and am honored by the nomination for the PGM Graduate Scholarship. It is a huge help in the journey to becoming a certified practitioner. I also thank those who have helped me grow, learn and develop my own sense of place in this world. I can only hope that one day I will be able to help others develop a stronger sense of their own place in the world by treating their disease, aiding in their recovery, and providing a holistic approach to their health and well-being.
Q: How did you develop an interest in healthcare? 
MT: As a sports fanatic and avid soccer player myself, I began making connections between the biomechanics of injury, health and performance in my former years playing club. My interest in healthcare stemmed from the realization that with proper nutrition, bodily maintenance and perhaps an optimum gene pool, some athletes excel beyond others. My concurrent interest in science naturally propelled me onto the medical field trajectory during college.
Q: What do you like about healthcare?
MT: I am riveted by the notion that I may be able to positively influence the lives of others by simply wielding medical knowledge and empathic compassion. Through the extension of my being, I may be able to influence that of others, which is an incredibly powerful and intimate experience. 
Q: What are your career ambitions in healthcare?
MT: Although cliché, I aspire to positively impact the lives of those around me. My ambitions to provide quality, holistic care include those that align with God's will and my neighbor's need. 
***
The entire PGM team congratulates Megan on earning the scholarship and wishes her nothing but success at UNMC. PGM also thanks everyone who applied. We received applications from many impressive candidates from throughout the country, and encourage those who were not selected to apply again next year if they are still eligible.