PGM Billing, a leading integrated medical billing service, practice management, and medical billing software provider, is proud to announce the recipient of the first PGM Undergraduate Scholarship.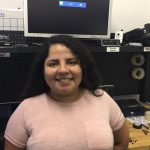 The PGM scholarship was open to undergraduate students pursuing a career in computer science with a demonstrated interest in the healthcare industry. The 2016 recipient is Karina Barajas of Montebello, Calif. Karina will be attending California State University, Los Angeles (CSULA) in the fall. Her declared major is in computer information systems (CIS) and she is planning to pursue a career in the healthcare industry.
Q&A with Karina Barajas
Karina spoke with PGM about the scholarship, her interest in computer science and healthcare, and future aspirations.
Q: How will receiving the scholarship help with achieving your academic and/or professional goals?
Karina Barajas (KB): The PGM Scholarship will help with achieving my academic goals because I will be able to take the rigorous computer science program at CSULA. This will allow me to obtain a certification, in addition to my bachelor's degree, and purchase the required computer software and books that I will need to help me practice program writing and data mining, strengthen my skills and ultimately excel in CIS. This will give me an opportunity to better prepare for my professional goals in a field that is always changing.
Q: How did you develop an interest in computer science?
KB: I developed an interest in computer science when I was a college math tutor (math was my favorite subject throughout my K-12 education). One student I was regularly tutoring needed help in an introductory Java course and gave me a couple of his assignments and his book to glance at. As I reviewed his course book, I was immediately attracted to the idea of learning code to write programs. Math and coding are very close related and intertwined.
Q: What do you like about computer science?
KB: What I love about computer science is that the possibilities are limitless and always changing. I decided to go into this field because computer science uses some of the skills I am most fond of. Coding requires specific steps to run a command, and if there is anything out of place, just like mathematics, the end result will be incorrect. I love creating and managing databases, which aligns with one of my goals of working for an organization that allows me to build and maintain EHRs.
Q: When did you develop an interest in healthcare?
KB: I have always been passionate about healthcare because I wanted to improve the lives of others but I knew, early on, from my experience with blood and dissections, that I would never be able to stomach being a doctor. Instead, I feel that by becoming involved with the data I can also improve the quality of life of patients in an indirect way.
Q: What are your professional goals?
KB: My long-term goal is to, one day, work at a hospital as a computer science researcher to help develop cures to diseases and illnesses. I would like to work in using algorithms, mining and modeling to gather data, such as genomics or proteomics, and be able to process the large amounts of research and patient data into information that can be useful to improve society's quality of life and health.
***
PGM congratulates Karina on earning the scholarship and wishes her luck at California State University.
We also want to thank everyone who applied. We received many applications from impressive candidates nationwide. We encourage anyone who was not selected to apply again next year (if eligible). We will also, once again, offer our graduate scholarship for students entering into medical school or currently within a medical school program.