PGM Billing, a leading integrated physician billing, practice management and electronic medical record service provider, announces the launch of a free CPT code fee search engine available for the iPhone and iPad.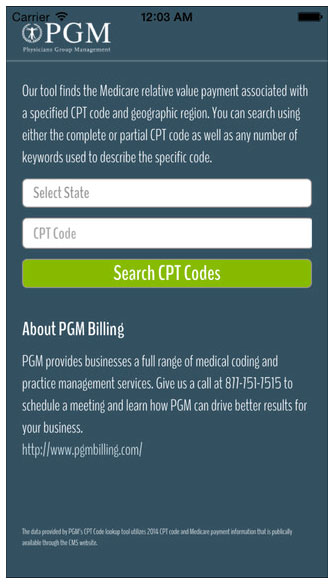 The CPT Code Fee Search Tool app allows users to perform CPT code searches to obtain the Medicare relative value payment associated with a specified code and geographic region.
Users may search using either the complete or partial CPT code and any number of keywords used to describe the specified code.
The app is optimized for iPhone 5, iPhone 6 and iPhone 6 Plus.
The release of the app comes less than six months after PGM launched a CPT code search engine on its website. Since the search engine's launch, visitors have conducted hundreds of thousands of searches.
"Considering the tremendous response to the website-version of the CPT search engine and the numerous requests we heard from users, it was only natural for PGM to develop this app," says Chris Saviano, VP of Business Development for PGM Billing. "We are pleased to add the app to the rapidly growing list of resources available through PGM that help healthcare organizations achieve and maintain financial success."
In addition to the CPT code fee search engine, PGM recently launched a free, comprehensive ICD-10 code conversion engine. It allows users to easily convert ICD-9 to ICD-10 codes and vice versa by selecting the ICD conversion type followed by a user defined code.